Spot the Luxembourger!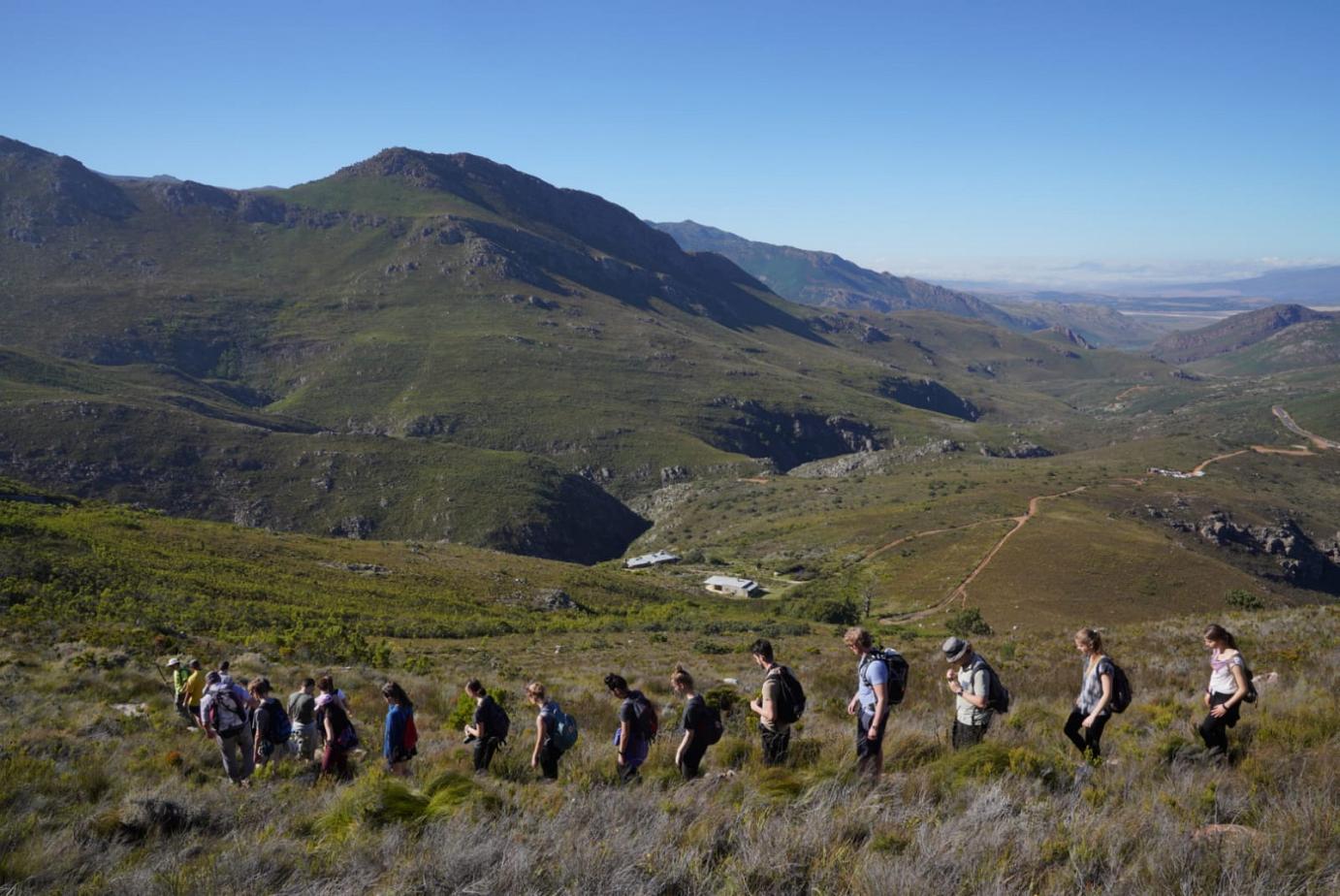 In April, students, teachers, and the director of Athénéé de Luxembourg visited Cape Winelands Biosphere Reserve for two weeks.
In Luxembourg, the students attend an Edu-Link course run by the school, in conjunction with their NGO Athénéé Action Humanitaire who fund many of the diverse educational projects of Cape Winelands Biosphere Reserve. The group visited the projects supported by their NGO and had several hands-on experiences of the educational outings and activities that they fund.
The program, packed with cultural immersion, projects, and volunteering, kept them very busy.
Among some of the activities, to have a first-hand experience of the impact of their projects, the group covered 4 out of 12 km, a partial TPA* Bronze hike, along the fauna and flora rich Vista Trail in Mont Rochelle Nature Reserve in Franschhoek. They were led by one of our guides who take youth on environmental educational hikes, outings, and involved in many of the Biosphere's projects. The hike allowed them to see the vast contrast in environment that the youth who go on the TPA hikes experience and live in. Two of the students and a teacher, familiar with the European run Award Program in Luxembourg, knew the hard work and dedication that goes into completing The President's Award Program and the positive impact that it has on its participants.
Other activities involved, a visit to the Bonnie People's Project, the Breede Centre, and a very special tour of Mandela's House at Drakenstein Correctional Facility – an outing the youth of Care Career Connections have experienced yearly.
The group saw the rich biodiversity - the change in landscape throughout the Western Cape. From the vast open space of the Klein Karoo around Oudtshoorn to the West Coast National Park. Also De Hoop Nature Reserve on the Indian Ocean where they met and spent the day with guides who have completed the Field Guide Association of South Africa program, another project funded by Athénéé Action Humanitaire. The program reaches out to passionate youth who never have had the opportunity to travel beyond their immediate environment. The course gives them the tools and opportunity to start an independent life.
As part of the historical and cultural interactions they travelled to and discovered The Point of Human Origin at Mossel Bay, learned about stalagmites and stalactites at Cango Caves, toured !Khwa Ttu Khoi San Village, Fossil Park, and spent two days in Cape Town visiting District Six and Table Mountain among other things.
There were several up close and personal moments witnessed, not just through the binoculars, of the big five!
To end the trip, a ceremony was held to celebrate the two-year partnership in building an ECD school for pre pre-school children. During the Luxies stay, the group painted bookshelves to go into the classroom upon the opening of the school. The event also marked the ten-year anniversary of the NGO Athénéé Action Humanitaire.
Please follow link to view the Athénéé de Luxembourg article -
https://www.wort.lu/de/mywort/merl/news/das-athenee-unterstuetzt-weiteres-schulprojekt-in-township-in-suedafrika-5ad47990c1097cee25b877d0